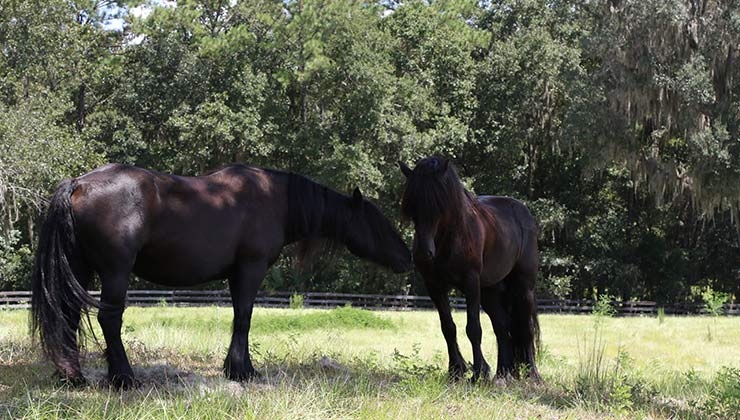 So what is so special about the Dales Pony Breed then?
They truly are a breed which loves a job, enjoy people's company and are prepared to have a go at just about anything. They excel in many equine performance areas while maintaining their hardiness, temperament, and willingness to perform.
Once people have a Dales pony in their life, they always want a Dales Pony in their life! Don't be fooled by the term "pony"—Dales are Cobs and are sturdy in stature and well capable of carrying adults.
Safe and personable, they are the quintessential mount for the rider who wants a lifelong companion who can hack, drive, event, work the fields, dressage, jump and Trec.
They average in height between 14hh and 14.2hh but some have been known to reach heights of 15.2hh. However, even the smaller ponies make up in girth what they lack in height which makes a fantastic ride for child and adult alike; power and substance without having to raise your leg high from the ground to mount up!
They descend from the native but now extinct, Galloway Pony who roamed the northern hills and moors of the British Isles and in fact older generations still refer to them as Dales Galloways. They were initially used predominantly for the lead mining industry as pack ponies where they were famous for crossing the Pennines quicker than any other breed.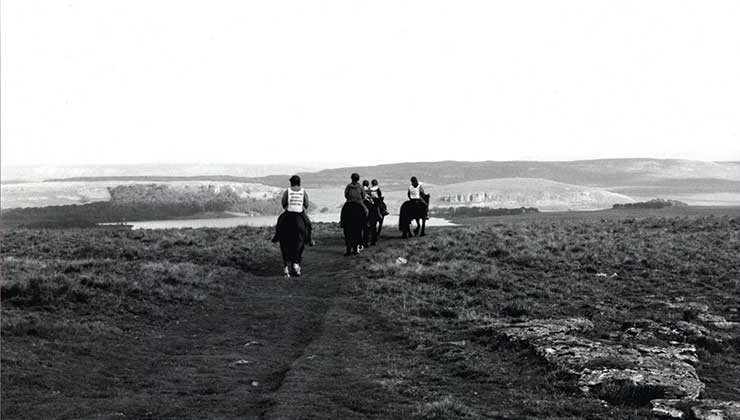 This is due to their stamina and surefootedness (the Pennines are a rough mountain/hill range with change of foot almost every stride, containing rocky screes, deep bog, steep banks and many streams). But mainly the speed at which they worked was due to their natural ability to balance their load.
A Dales Pony managed to work over the varying terrain without transferring that movement up through the back so much that it would disturb the load and require numerous stops and readjustments of pack load.
This is what made Zana choose them as the ideal breed for her horseback riding trail guiding business. A pony which would try to rebalance a rider who slumped one way or the other, a pony who it would therefore be difficult to fall off whilst covering the challenging and beautiful scenery!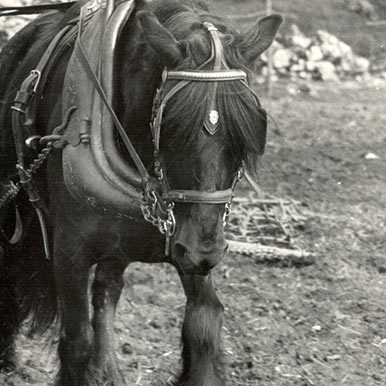 Since the closures of the mines, Dales Ponies have been used for a variety of tasks both on the farm and for pleasure. They have had an injection of driving blood which make for their ability to cover distance at good speed between the shafts. They have great knee and hock action which make them "showy" and certainly eye catching.
During the 1st and 2nd World Wars they were a good choice of pony to help with the war effort, packing equipment, soldiers and pulling guns, due to their thriftiness and stamina. Unfortunately many ponies were lost due to this popularity for use abroad as those that survived, were not brought home.
This led to the breed becoming very rare as of course at that time, the introduction of tractor power made them redundant as a choice for larger farms. However, the smaller hill farms kept using their Dales Ponies and thanks to the diligent efforts of breeders and supporters of the breed, the Dales Pony continues.
As the equine leisure industry grows and there are more people who wish to ride but want a safe feeling mount that doesn't require a particularly fit rider like many sport horses do, the Dales Pony is rapidly becoming the mount of choice. They have a little more style than many other work horse/leisure horse breeds (many calling them mini Friesians), they are personable and have good strength and energy, whilst giving you exactly the same ride if they'd been ridden the next day, or with a month's gap inbetween. No heavy lunging required of this breed if you've had a hectic week and missed your rides.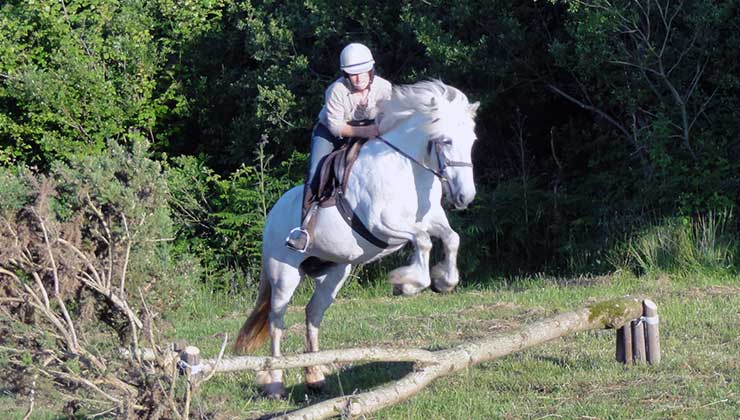 Dales Ponies are family ponies whilst holding their own in the show ring, the dressage arena, at endurance and on the hunting field and in driving competitions. Although they will never be grand prix level show jumpers, they are bold and happily jump to heights that most average riders are keen to have a go at!