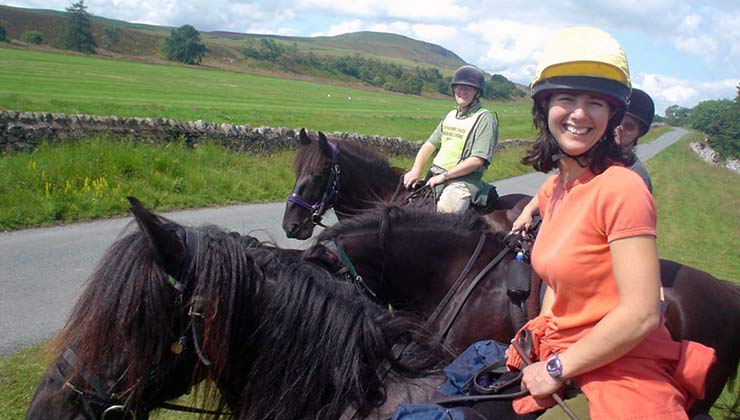 Want help finding that special pony. Let our experience and contacts work for you.
Zana offers her services to help source the right pony for you and will give frank and honest advice to help you select the right horse (which doesn't have to be a Dales Pony, Zana has knowledge of all breeds and types, see Jackie's testimonial below)
Many people think they know what they want, but after talking things through with Zana, realise they would make the mistake of buying the wrong sort. So often nervous riders seek out a soft sensitive horse, until it is pointed out that a sensitive horse would also be sensitive to everything; the environment and more importantly the things the rider doesn't mean to say—like having the handbrake on unintentionally with their riding, due to their nerves!
This would upset a sensitive horse to the point of despair and so the rider would never actually feel that they could "let go". Whereas they might find if they had a bit of a laid back, slower to respond horse, they immediately feel they can "let go" and as they bond with the horse, the horse's respect and reaction times increase to that of what people would describe as a sensitive horse. Thus the perfect partnership is born.
It is about being able to see beyond what the horse is like in its present environment (during the half hour viewing) and anticipating what it will be like in its new home with its new human. Only an experienced horseperson has any chance of getting this right and even then, it's not truly predictable because a horse is a victim to its environment and can be very different under different rules and scenes.
So anyone wishing to be guided through the horse buying process will need to be prepared to visit Zana and ride her selection of horses so that she understands you as a rider and person and so can accurately find that perfect partner. Then she can use her contacts to try and source the pony for you that will best suit your home and needs.
Testimonial from Fiona, UK
I first met Zana in 2010 when I wanted to gain more experience of Dales Ponies. Having lessons on her well behaved ponies cemented my desire to own one myself.

Over the years I've worked with a number of different trainers, but can honestly say I feel I've progressed further under Zana's tutelage than anyone elses.

Her classically-inspired tuition is clearly explained and she breaks exercises into manageable chunks – I've never felt I couldn't ask daft questions! It all just makes sense, and I've had many 'ahh….the penny drops' moments. Her focus on balance of pony and rider, together and individually, aligns with my belief in improving my position as a rider in order to better influence my pony.

I feel that Zana sees the long-term goal, there are no short-term fixes. While I am stretched in lessons, I never feel pressurised too far beyond my comfort zone. I always come away with a clear idea of areas to focus on and exercises to work with on my own.

When the time came to choose my own Dales Pony, I knew Zana was the person to help me find him. With my 'shopping list' of equine disciplines, I knew her assessment of his character and potential, coupled with her knowledge of my abilities would be key to finding a long-term partner.

Thus, I felt confident enough to purchase a gorgeous 4-yr old. Zana's support, both in lessons and with follow up emails (on all sorts of topics!) has ensured we've got the start we need. I look forward to the future with him.
Testimonial from Jackie, UK
Zana provided an excellent service when I took the big step of buying my first horse. This started with discussion on what sort of horse would suit me and what I wanted the horse for; advice on where to look, what to look for (and avoid) and what questions to ask.

Zana reviewed my short lists and helped prioritise potential viewings. Zana accompanied me on viewings, checking the personality and physical conformation of the horse, riding it to form her opinion, then watching while I rode.

Every part of her assessment was explained to me, so I learned loads through this process. She was careful to guide me objectively, but not to influence me in my final decision.

When I bought my horse it was delivered to Zana's yard, where I stayed for a week while the horse and I got used to each other. Zana has always remained available by email for questions and settling in problems and I have been back to visit for the odd lesson, which has been invaluable.

Buying the wrong horse could be so easy to do and the extra confidence I had with Zana involved throughout the process has been priceless.