Sowermire Jock
10 year old Dales gelding. Jock has just arrived to join our match making scheme to find his forever home. He's a much loved pony and his owner is very keen to find him just the right person and place. Our first impressions are that he's a friendly, sweet natured boy. His school work needs a little polishing and his confidence boosting, but this pony seems a lovely safe ride. He's been out of work for some months and so needs some conditioning which we are straight on with and on his first day here we went straight out for a ride around the village. His ears were pricked the whole ride, and he took everything in his stride willingly and sensibly. He gives the impression of a wonderful family pony. At his previous home he's done both riding and driving and has attended pleasure rides and seen hounds. So far here he's been ridden in company and alone and seen traffic and been unfazed. At the time of writing this it's only day 3 of arriving in Yorkshire so more updates will be on the Facebook page and eventually here also.
Price £4,000 plus training at £225 per week and expenses, eg. Vet/farrier.

Other nice ponies expected to arrive for training and sale soon…
Or find your own youngster and send here. See below;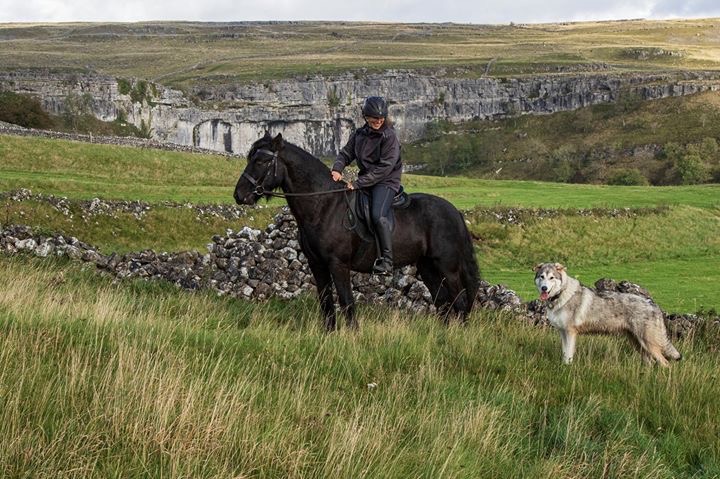 We are able to source and train one for anyone interested. Zana knows many different breeders and can travel to check out both untrained and trained ponies with or on behalf of clients. Her experienced eye can hopefully guide you through the process to find your ideal partner.
The picture shows Griseburn Kestrel who was sourced and trained for a family who are enjoying every minute with him. Many other ponies have found their way into great homes through using Great All Rounder services.
Here are testimonials from people that have purchased Dales ponies from us in the past.
When I came into a bit of money in 2012, a friend convinced me to meet Zana and her Dales ponies before making any decisions about buying my first horse. After just one weekend of hacking and lessons on the Dales, I could see the appeal of these willing competent ponies but a hairy pony had never been on my wish list which has been active for nearly 30 years! However, after such an enjoyable and educational weekend with Zana more soon followed as we talked and planned my search.

Over the next few months Zana patiently guided me through the mine field of searching for my suitable equine partner and even offered to take a weekend away from the farm horse viewing to help me make the right choice. Then fate played its hand and heavy snowfall prevented the UK road trip to view our short list. Understanding my disappointment, Zana changed plans to give me some riding time at the farm instead. And then I fell in love. Not really on the market was Zana's young, big grey Dales called Sowermire Oscar and from the moment she had me booked to ride him in a lesson was the day he made a big entrance into my life and there was no going back! He became mine in March 2013 and will be with me forever.

Zana supported my (crazy) views that Dales ponies couldn't provide what I was looking for and helped me anyway. In the end we didn't need a search elsewhere as she had the safe, fun, beautifully started pony of my dreams. Luckily too she saw the potential in our match and agreed to sell Oscar, even though she had another plan for him. I believe that she wouldn't have if she'd have thought we were a mismatch. We already have ribbons in dressage, show jumping and cross country and many lovely memories and there will be more…
Lynn Whittaker, UK
Zana's professional reputation in both breeding and training Dales Ponies here in the UK is second to none, she has a natural ability to match ponies to people creating a genuinely fantastic partnership.

Therefore when deciding to buy my first Dales Pony she was the obvious person to go to. I could not have been happier with her advice and went ahead and purchased Colliery Trooper.

Trooper is the perfect pony for me and with Zana's continued support and knowledge we have gone on to have many fun-filled adventures together.

Having been lucky enough to get my own land earlier this year it was decided Trooper would need a friend, so back to Zana I went and bought my second dales pony Malhamdale Cloud, only a youngster at just two years old she will be my project next year with Zana's support I know she will be another amazing dales pony.
Emma Hewitt, UK
Zana will quietly and honestly tell you that there is no such thing as a perfect pony (just like there is no such thing as a perfect person). However, her knowledge and understanding of rider and pony personalities will ensure that your pony will be for life.

When I met her, I hated mares and was not a confident rider. With Zana's support I now have 2 beautiful mares who carry me across any terrain in the knowledge that I will always be safe. There is no better feeling than that of being safe when riding.

When considering paying for Zana's professional services, I would advise anyone to stop and think what they would budget for a car, a car who can't think for itself and that you probably would expect to have to replace in a matter of years anyway. And then think actually just how reasonable Zana's rates are when within all likelihood the pony you buy will last you your lifetime and will think for itself in a safe well balanced manner.

Don't be trapped into the all too often modern practise of buying the bargain horse – it will cost more in the long run in lost confidence and heartache, not to mention instructor fees! Zana and her Dales are truly the most amazing I have ever met – trust her and your pony dreams will all come true.
Andrea Warren, Devon, UK