Thornville Jenna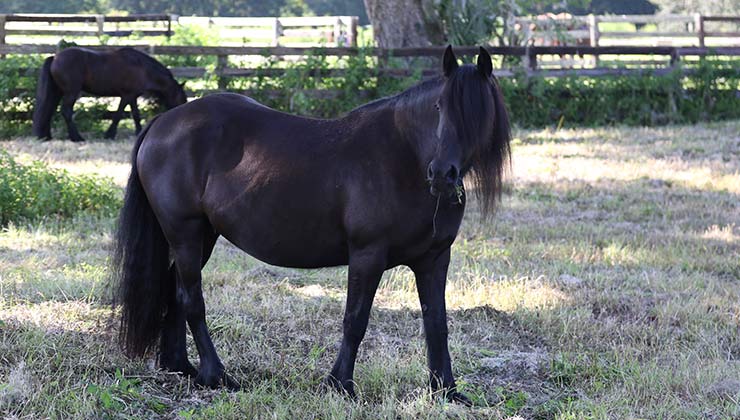 2007 Black
Sire Silton Comet
Dam Thornville Gem
Jenna is the 2012 Spring Stallion and Breed Show Supreme Champion. That means that not only did she win her in hand class but also beat the winners of every other class at the show. She is an excellent example of her breed. She has wonderful conformation, amazing action and is the best mother you could possibly want.
She was bought as a broodmare for Apollo, and their chemistry is just perfect together—another demonstration of Zana's ability to not only match pony to rider, but also pony to pony! Jenna is a great ride and drive pony but her main job for Great All Rounders is to produce wonderful foals for future generations to enjoy.
Rosebarr Donna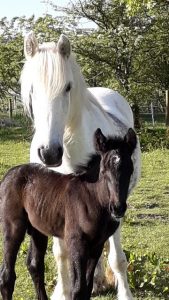 1999 Grey Mare
Sire Broscoe Joseph
Dam Rosebarr Kizzie
Donna is a fantastic mum. She is kind but also possesses amazing courage and endurance and speed. She has journeyed miles without a day lame leading rides out over the Yorkshire Dales, Exmoor and Dartmoor National Parks, no terrain getting the better of her.
She has produced some wonderful foals including this year's 2020 colt foal by Hett Samson, Malhamdale Lockdown, Loki for short. She has earned a retirement from work now but as she loves looking after babies we hope she'll produce a couple more before she fully relaxes into a proper OAP.
Earnwell Faith
2016 Black Mare
Sire Rosebarr Monarch
Dam Earnwell Sedge
Faith is a wonderful mare with fantastic action. She is a larger sort and was sourced for Peter, Zana's brother as a riding pony but it was decided to let her have a foal first as she's too nice not to breed from. Here she is with her wonderful Malhamdale Apocalypto filly, Malhamdale Freyja. She's a wonderful mum and her filly foal is a cracker!